NMFHRP Hosts Third "Moving Towards Respect" Workshop Series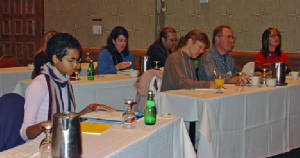 More than 60 New Mexico educators attended the workshops.
In October, 2004, over 60 New Mexico educators attended NMFHRP's third series of "Moving Towards Respect" (MTR) workshops. The two, two-day workshops featured facilitator Barry van Driel, as well as Cor Suijk, president of the Contemporary Holocaust Education Foundation. Their MTR curriculum is already widely used in New Mexico schools, though most of the people in attendance were new. All received training in combatting prejudice, racism, hate, and bullying, using the Holocaust as a jumping-off point, and bringing it up to the present day, where it affects their students.
Renee Firestone, an Auschwitz survivor featured in Steven Spielberg's Academy Award winning documentary, The Last Days, gave stirring accounts of her experiences. Daena Giardella presented a mini-workshop on bullying.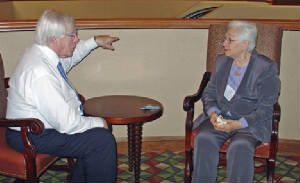 Holocaust rescuer Cor Suijk discusses the workshop with Auschwitz survivor Renee Firestone