March 28-May 6, 2005
Exhibit: Choices--Through the Eyes of Children
Based on the Moving Towards Respect modules, this exhibit features 21 screens of thought-provoking photos, commentary, and questions regarding historical and modern dilemmas, as well as choices that young people face today. Students see how choices were made during the Holocaust in Europe, as well as how choices still face students in the modern era.
Schedule
March 28-April 1: Manzano HS
April 4-8: Stronghurst Alternative HS
April 11-15: Harrison MS
April 18-22: Rio Grande HS
April 25-29: Jefferson MS
May 2-6: Rio Rancho Mid High School
Please contact us at 242-4737 for information about community events at each of the schools, or e-mail us:
For photos of the exhibit at each school, please go to the "Choices" Exhibit section.
-----------------------------------------------------------------------------
Released, Innocent Death Row Inmate Talks to Students
Juan Melendez spent almost 18 years on Death Row in Florida for a crime he did not commit. He credits his fellow inmates for teaching him to read, write, and speak English. His harrowing story riveted students at Stronghurst Alternative High School in Albuquerque, Cochiti Elementary School at Cochiti Pueblo, and the SNAP program at Albuquerque juvenile court.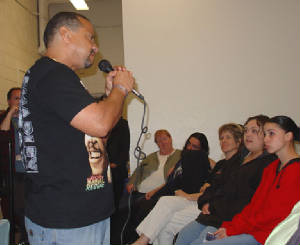 Juan Melendez addresses Stronghurst students