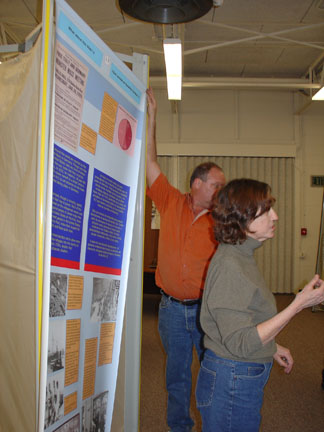 Regina and teacher Greg Dotson help set up the exhibit
Stronghurst created an extra period each Friday for all its students to work on the committees for the exhibit. These included docent, art, and publicity committees, among others.
Students created their own project panels, including those on the Holocaust, Anne Frank, and human rights. They also created a model of Auschwitz concentration camp and made a DVD of the entire process before and during the exhibit.
Their kickoff event featured APS superintendent Beth Everitt, Mayor Martin Chavez, and councilor Sally Mayer, as well as representatives from Join-A-School. NMFHRP and Stronghurst are JAS partners.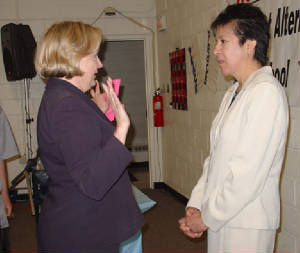 Principal Montoya speaks to councilor Sally Mayer at the opening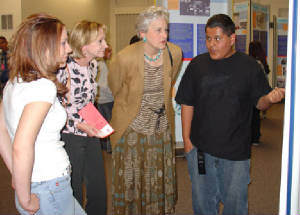 Supt. Everitt (2nd from left) views student success firsthand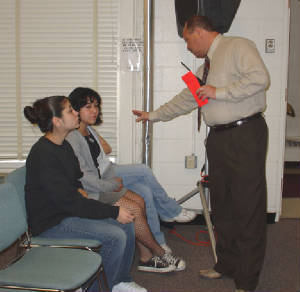 Teacher Greg Dotson, an exhibit organizer, speaks to students
JAS representatives view the Auschwitz model


Many dignitaries listened to remarks before taking the exhibit tour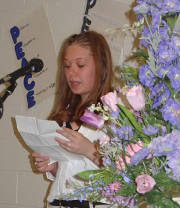 Stronghurst students read essays about the Holocaust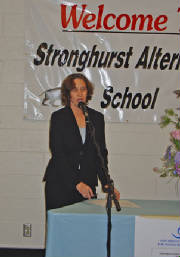 NMFHRP Executive Director Regina Turner compliments Stronghurst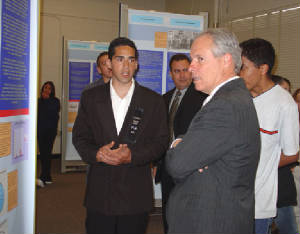 Mayor Chavez receives a student docent tour of the exhibit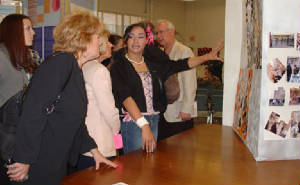 Docent shows visitors student displays about the Holocaust