_____________________________________________________________
2300 Students Listen as Renee Firestone describes life before, during, and after Auschwitz
Students paid rapt attention as Holocaust survivor Renee Firestone described conditions in her home regions of Czechoslovakia and Hungary before the Holocaust; her trip to Auschwitz and the fate of her family members; and how she rebuilt her life after her liberation. Firestone, who has worked for Steven Spielberg's Survivors of the Shoah Foundation, as well as the Simon Wiesenthal Center in Los Angeles, fielded very pertinent and pointed questions from the audience after her presentation.
Regina Turner, Project Director for the New Mexico Foundation for Human Rights Projects, explained the importance of the event. She then introduced Mayor Martin Chavez, who read a City of Albuquerque proclamation in honor of Holocaust Remembrance Day and also introduced the speaker. Students in the audience came from APS, as well as from schools in Pine Hill, Roswell, Gallup, Moriarty, Rio Rancho, and Santa Fe.
Firestone, featured in Spielberg's Academy Award-winning documentary, "The Last Days," was greeted warmly by students on their way out of the auditorium. The event was covered by several TV and print media outlets.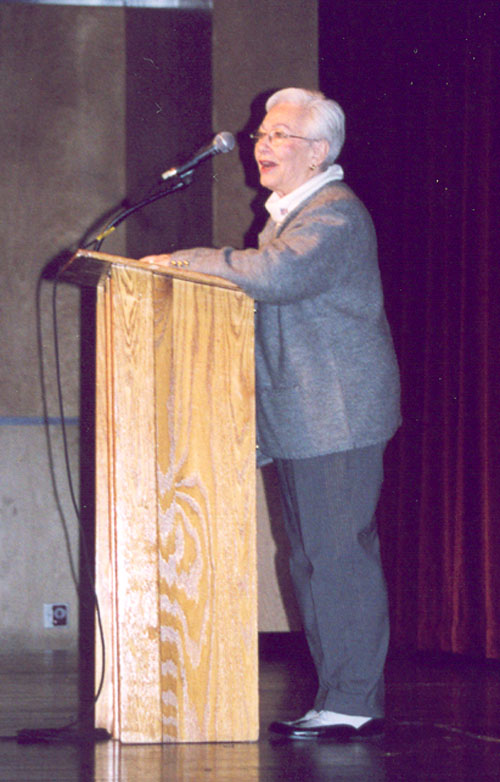 Renee Firestone addresses a large student audience